The GENESIS Short Track model is available in both standard and wide width. Our wide boot is approximately 5 mm wider than the standard. 


The GENESIS short track speed skating boot is a game-changing high-performance tool designed to bridge the gap between stock and custom footwear. We have scoured the globe searching for the highest quality materials available. The GENESIS is the result of 10 years of custom boot research and development. 
Clients will not be disappointed when fitting the GENESIS for the first time. This boot is design to accept many different foot widths. The foot is cradled in genuine calf leather with the heel softly supported by our memory foam counter. Use of Thermal-CSC not only ensures that the user will achieve a better fit out of the box - it also produces a custom experience at a stock price.


We consider the GENESIS to be simply the best stock short track speed skating boot on the market today. Every aspect of this boot has been mulled over, hashed out, tested and re-tested. This ground breaking skating tool is years ahead of its competition. If you are serious about your performance but not quite ready to move into a custom boot, then the GENESIS is the boot for you.
Training Impact: HIGH
CBC's World's Best Fitting Last​ - standard or wide version available 
2.5% toe lift to increase stability during corner entries and exits
100% Full Carbon uni-body support shell
100% Thermo-CSC construction ideal for achieving the perfect fit
Robust 11 mm dense mounting blocks for optimal bolt-to-thread contact
Exposed oversized mounting blocks for better cup contact
Velcro Brand Hook & Loop Fastening System
Advanced foam core technology to improve strength-to-weight ratio
High impact epoxy laminating system
Orthopedic grade cushioning system
CBC HTR (High torsion resistance) reinforcement layup
Genuine leather interior lining
High end premium PU leather exterior upper 
Ballistic nylon supported closure system
Double Nickel plated D-Rings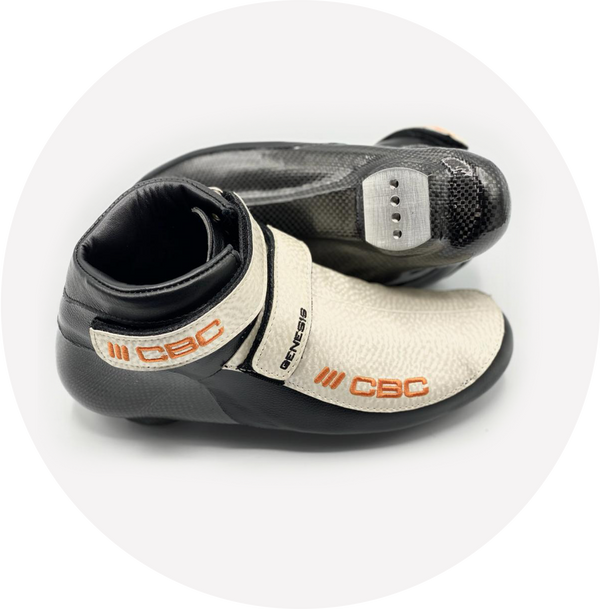 INNOVATIVE THERMO-CSC FIT
The Genesis short and long track boots feature 100% thermo-CSC, resulting in a molding outcome that is a near custom fit. It is designed to perform for both sprint and long-distance efforts.