The ELEMENT Short Track model is available in both standard and wide width. Our wide boot is approximately 5 mm wider than the standard. Element Wide boots are stocked in sizes 32-45. 
Enter the sport of short track ice speed skating with the most comprehensive beginner boot available on the skating market today.
The ELEMENT is built on the same CBC World's Best Fitting Last as the GENESIS and is constructed of lightweight and durable materials. At the heart of the dual composite support counter is our innovative Thermo-CSC, a heat activated molding medium. The ELEMENT wraps around the client's foot to assure optional support, comfort and trust.
This boot is beautiful - if we do say so ourselves! - with functional patterns and increased strapping ability. Start your short track career off with this affordable, innovative boot and you will be well on your way to the top.
Training Impact: MEDIUM
CBC's World's Best Fitting Last - Standard or Wide Available
2.5% toe lift to increase stability during corner entries and exits
50% Thermo-CSC construction, ideal for achieving the perfect fit
Duel composite Carbon/Fiberglass uni-body support shell
High impact epoxy laminating system
Orthopedic grade cushioning system
Microfiber interior lining
Velcro Brand Hook & Loop Fastening System
Ballistic nylon supported closure system
Double Nickel plated D-Rings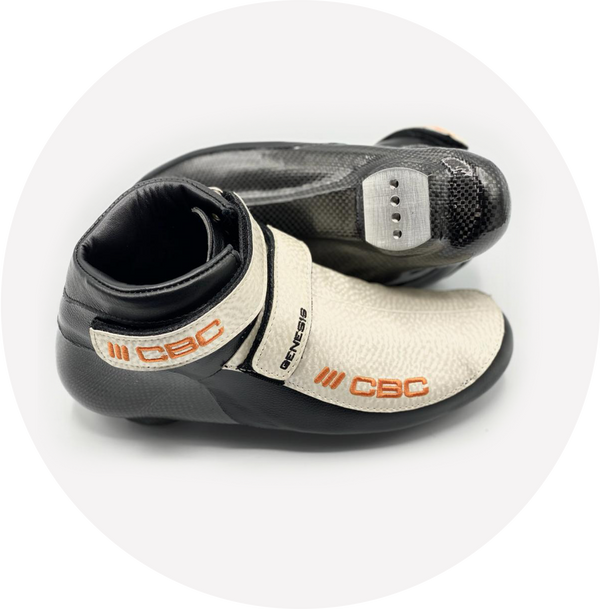 INNOVATIVE THERMO-CSC FIT
The Genesis short and long track boots feature 100% thermo-CSC, resulting in a molding outcome that is a near custom fit. It is designed to perform for both sprint and long-distance efforts.