*Please note, the new CBC glove runs a bit bigger than the Skate-Tec glove. Please see our sizing guide. If unsure which size to order, we suggest you select the smaller size to achieve the contoured fit for which this glove is designed.

Since the "Nalza glove" went away, we felt the market had been lacking in a glove that provided the safety, superior fit and performance sought after by short trackers today. Not ones to wait around for a solution for our customers, we decided to take matters into our "own hands." And so, we sourced our own cut-resistant gloves that check all the boxes required to meet our high standards. And then, in typical fashion, we took what we found and improved upon it!
Enter: the CBC Short Track Glove paired with CBC's 100% carbon tip GloveArmor.

As safety is our number one priority, you may rest easy knowing that CBC's gloves offer solid protection against cuts thanks to an innovative technological knit made of high-tenacity polyethylene and mineral fibers. The cut protection level of this glove is "F," the maximum available on the A-thru-F scale based on the EN388 international standard, making it the most cut-resistant, durable short track glove available on the market.
Top short trackers can't be bothered by gloves that feel uncomfortable or loose. The expression "fits like a glove" can be taken very literally here, as the CBC Short Track Glove feels like an extension of the hand, with a snug elastic fit resulting in no bunching, crunching or excess material. 
We considered areas of vulnerability in other branded gloves, which brought us to the wrist. The CBC glove extends naturally and comfortably over the wrist bone, providing the right amount of coverage for this area. 
NEW AND EXCLUSIVE to CBC is an exciting addition to the world of short track gloves: "the grip pad." The three CBC lines on the palm offer a low-profile friction pad that prevents the hand from sliding during a relay push - a hazard of the trade in high speed exchanges.  
Paired with CBC's 100% carbon GloveArmor, the first true FULL carbon fiber 3mm glove protection fingertip laminated in CBC's proprietary mold. It is infused with high impact epoxy resin for a feather-light experience with unsurpassed longevity and performance.
Finally, our sleek branding will let your companions know that (perhaps as with your boots or other CBC accessories) you have elected to go with the best available in short track speed skating equipment. 
Durable, cut-resistant knit made of high-tenacity polyethylene and mineral fibers

Cut protection level "F," the maximum available on the A-thru-F scale based on the EN388 international standard

Exclusive to CBC: The "Grip Pad" for relay exchanges

Fine ergonomic knitting results in excellent dexterity with no bunching of excess material 
Full coverage of wrist bone
CBC branded

Available in 4 different sizes 
Glove set available without carbon tips as a separate product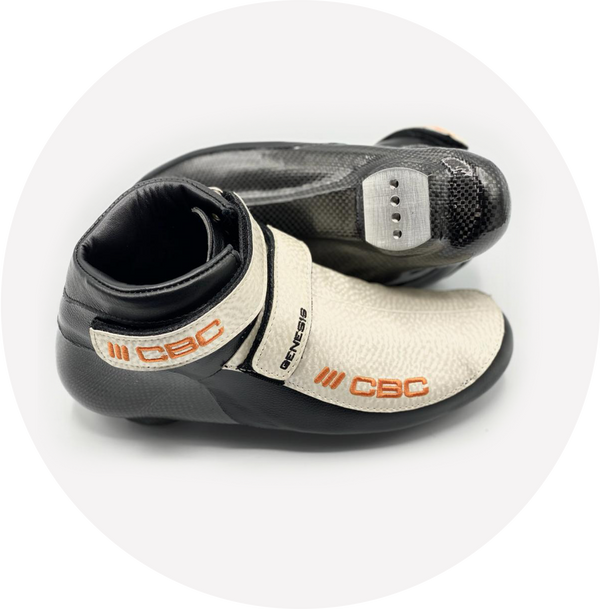 INNOVATIVE THERMO-CSC FIT
The Genesis short and long track boots feature 100% thermo-CSC, resulting in a molding outcome that is a near custom fit. It is designed to perform for both sprint and long-distance efforts.