The lead time on Otto blades is approximately 6-8 weeks. 
The next generation in short track blades, the Otto is the result of years of development initiated by and named after Otto den Braver.
It is the first shorttrack skate featuring a bridge construction. By using a bridge instead of standard cups, the design overcomes many of the problems with standard short track skates. The bridge creates a rigid construction between the front and back mounting points, preventing unwanted tensions caused by inaccuracies in the boots. It also allows the blade to flex more and for use with less bend. Less bend in turn reduces the friction and increases gliding capabilities at higher speeds.
BENEFITS:
No bending change
More stable feeling
Better dynamics
Quick blade change
More customization options (spacing/center of pressure and flex)
For more information, visit Skate-Tec's website.
After feedback from powerhouse skaters like Shaolin, Wu Dajing and Viktor An, Skate-Tec found there is no optimal setup for the skate. You can tune it to your own likings. If you want long powerful strokes, you go for a flatter rocker in the middle and a bit less bend than normal (roughly 2 less than the M-Wave on a Marchese style gauge). If you want a lot of steering and more agile feeling, you can keep a normal rocker with a lot less bend (about 5 less). Also let the bend increase less towards the front. 
Please note that blades come pre-bent, but not rockered. All blades require rockering before skated on. CBC offers blade rockering services. Please add this product to your cart if you would like this service. 
HRC 62-64 Rockwell
Tube Aluminium 7000
Unique bridge system for short track
Approximate recommended body weight: Between 110 and 145 lbs
HRC 62-64 Rockwell
Tube Aluminium 7000
Unique bridge system for short track
Approximate recommended body weight: 145 lbs and up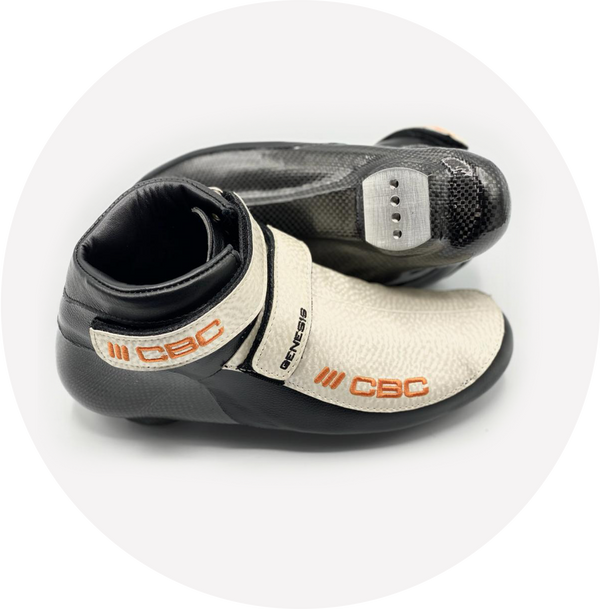 INNOVATIVE THERMO-CSC FIT
The Genesis short and long track boots feature 100% thermo-CSC, resulting in a molding outcome that is a near custom fit. It is designed to perform for both sprint and long-distance efforts.